Welcome to the homepage of MÜKI LABOR Ltd, the certified (MSZ EN ISO/IEC 17025:2018) plastics and polymer testing laboratory.
The laboratory has been serving and supporting the industrial quality control already with more than 15 years experience.
Main activities:
Standard testing according to international standards (ISO, EN, DIN, ASTM, SAE,, automotive standards).
Developement of special testing and testing methods for regular quality control of semi- and finished plastic products. (Examples: automotive industry, packaging industry, coatings, construction industry).
Exploration of roots of quality and technology issues. giving proposals for resolution of problems.
The laboratory participates regularly and successfully in international round robin tests (pl.: DRRR, KSI) .
Industrial fields of activities where  plastics and polymers are applied:
Automotive industrial tests.
OEM's: VW, Volvo, Daimler, Audi, Ford, Suzuki, KIA
Examples for standards: UL 94, EN ISO 1183-1, VW PV 3925, Volvo STD 1026,8177, EN ISO 11357-2,-3,-6, TL 1010, PV 1303, ISO 16232, FMVSS 302 VDA 19, ISO 527, ISO 179, DIN 53435, ISO 868, ISO 48-4, EN ISO 75, EN ISO 3451, EN ISO 1172, DIN 53497, ISO 307, ISO 1625-5, PV 3929, PV3930, DIN 75220, ISO 105-B06, ISO 1133, ISO 4892-2, TL226, DBL 7384, Ford WSS-M2P188-B1, DBL 5404, etc.
Electric and electrotechnic industry
Packaging industry (food, medicine, cosmetics, chemicals etc.)
Constructive and building industry
Paints and coatings, decorations on plastic products
Fields of testing:
Plastic and polymeric raw materials
Finished and semi-finished products
Coatings (decorational, matt and high gloss, anticorrosive, galvanic coating etc.)
News
After successfully participating in round roubin tests for the VW 50180 emissions standard, MÜKI Laboratory was certified by the Volkswagen Group as a test service provider for emissions and odour tests:
PV 3015 (fogging)
PV 3341 (TVOC)
PV 3925 (Formaldehyde)
PV 3900 (Odor)
Certificate is attached: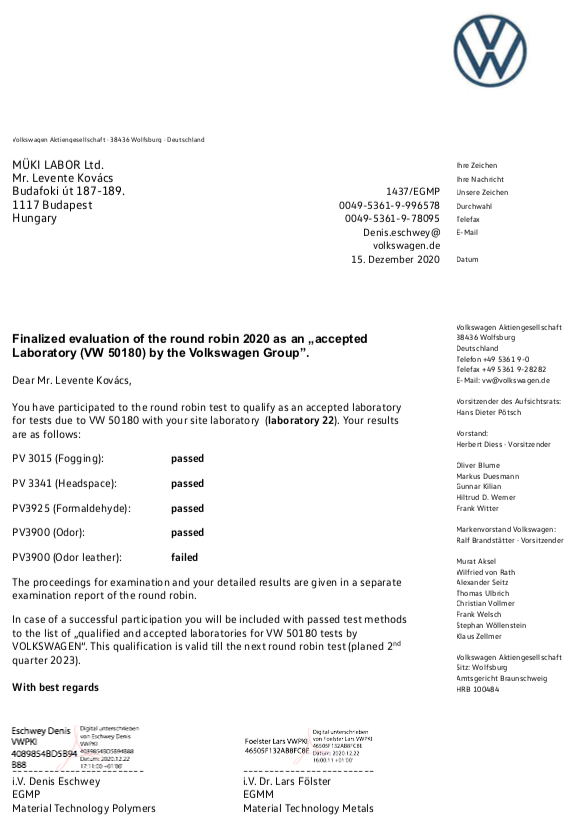 Main investigation types:
Automotive industry
Functional tests for semifinished and finished products
Chemical analysis, conformity checking
Thermic properties,
Eletrical properties,
Chemical resistance,
Flammabitily
Rheological properties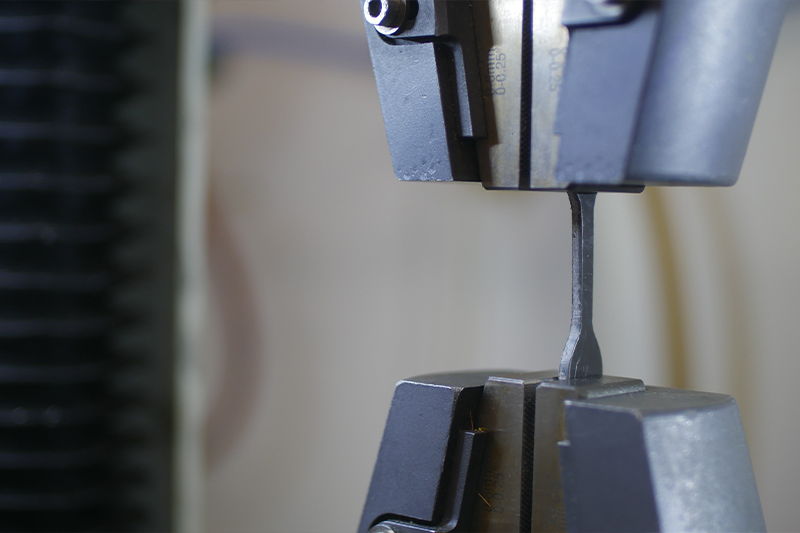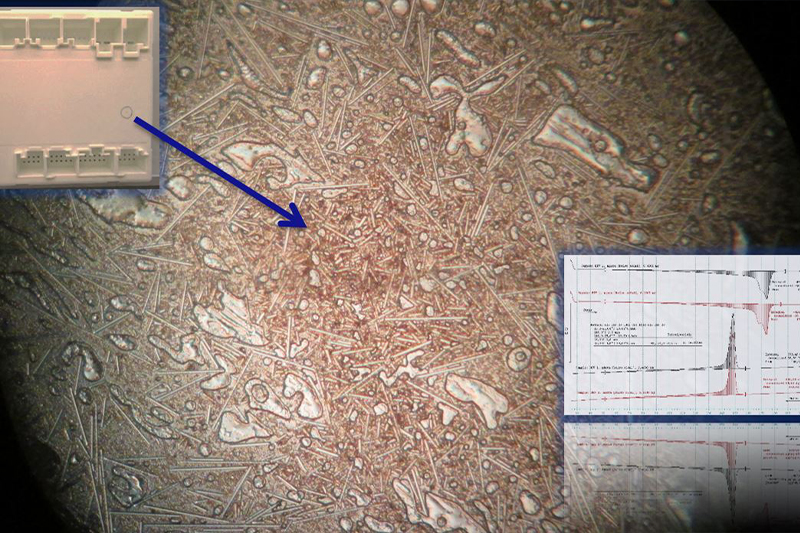 Exploring problems, trouble shooting during development and production, proposals for solutions.